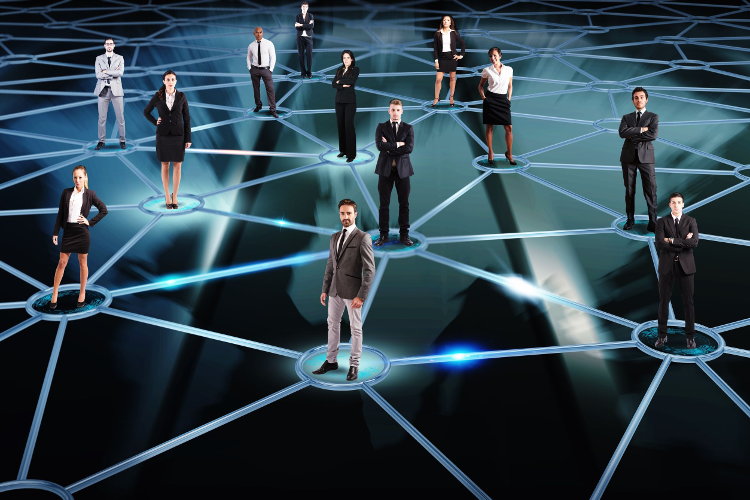 Networking is a difficult concept for most college students. To date, the academic work you have done in school has typically focused on individual effort. Team approach may exist in some classes and labs, yet at the end of the day the grade is your own. So we don't really teach much about networking and how to use it to achieve results in college or elsewhere in life.
Yet networking is a key to both job search success and overall career success. You can achieve far more by leveraging the resources of others than trying to do it all on your own.
Many college students think they have few or even no network connections to help them in finding an entry level job or internship. Yet there are many network resources available to you if you take the time to expand your personal and professional network.
Here is the key: it is not who you know, it is who they know. So while your Aunt Lois may not be personally hiring, she may know someone who is.
Here are several avenues for expanding your professional network:
1. College career center.
This should be the first stop in your job search. This is the only place in the world where professionals have the established goal of helping you find your way in the world of work. They can assist in the early stages (with career selection) as well as in the job search itself (resume development, interview preparation, career events and on campus interviewing). Tap into this resource early and often. If you want to know who is actively hiring at your campus, they know the answer.
2. College professors.
As mentioned in a prior blog post, college professors are often a highly underutilized resource. Yet many are very well connected to the world of work outside your campus. Take time to develop a relationship with your professors and then build on that relationship to gain both recommendations and referrals.
3. Other students.
Your peers sitting in class with you every day are your competition when it comes to entry level jobs and internships. However, they are also a networking resource that can help you to tap into jobs and employers you might not have known about prior. Simply ask where they are interviewing and with whom. The opportunity which may not be a fit for them could end up being the ideal fit for you.
If you like what you are reading, please share it with your friends!
4. Business connections.
If you have already completed an internship, you have professional network connections in the people with whom you worked. Most are well connected not only within the company, but also know of other companies that are hiring.
5. Professional associations.
If you are a student member of a professional association related to your major, you have a myriad of additional connections. If you're not yet a member, join now. And attend the meetings. Not just the student meetings, but also the local chapter meetings. Associations are built on the concept of networking.
6. Family members and friends.
Yes, even Aunt Lois may have connections who can help. Reach out to family members and friends who can provide you a personal introduction to those with whom they are connected.
So how do you utilize these network connections? Simple. Send them your resume and a very specific description of what you are looking for and where. Your job objective should be targeted by job type, industry and/or geography. Then unleash your professional (and personal) network to reach out on your behalf. Let them know that they can pass along your resume to anyone they know who might have job opportunities aligning with your objective. In doing so, you multiply exponentially your networking reach.
Networking is one key element to your job search. It often exposed the "hidden job market" of jobs that are not advertised or at least not yet advertised, helping you make connections you would not be able to make on your own.